An exciting new offer from Oxford University Press: the latest (8th) edition of their Advanced Learner's Dictionary is now freely available online at oxfordadvancedlearnersdictionary.com.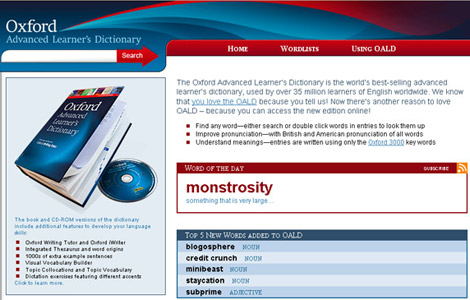 The elegantly simple design lets your students focus on the main thing: the search box in the top left corner. On typing staple and clicking on the Search button, this is what you get: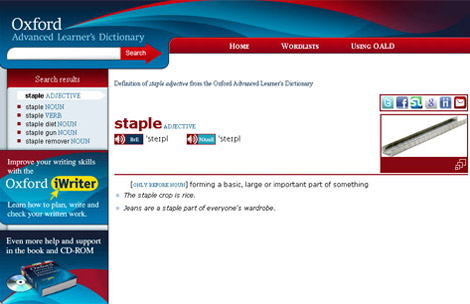 From the box on the left choose which staple you're interested in – as you can see, some headwords have picture illustrations too (funny though that the image of staple as an office tool is shown for the adjective staple), and you can always listen to the pronunciation in both British and American English, plus you get the phonetic transcriptions.
Most (if not all) words come with sample sentences, and when necessary, the definitions are accompanied by a special note; in this case, for staple: "only before noun".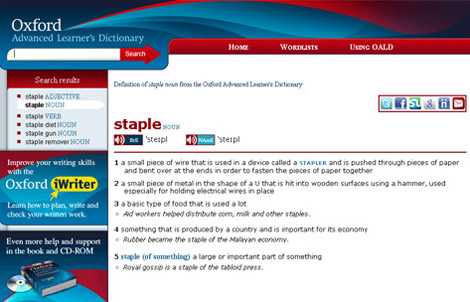 Above is a screenshot of the the staple (noun) page – you pretty much get what you can expect: clear definitions and carefully chosen sample sentences.
A very useful feature of the site is the Oxford 3000TM – a list of the most important 3000 words for learners.
You can also subscribe to their Word of the Day feed and get a new word in your reader every day.
Of course, there is still a lot left out that you will only get if you buy the printed dictionary and its accompanying CD-ROM but you can't blame Oxford here – this online dictionary is such excellent value that we can only thank them for making it freely accessible.